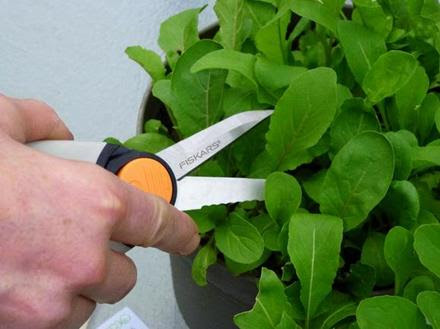 The days are getting longer, and we are all eager for a little fresh food in our diet. Get a jump on spring with lovely living salads. For the month of April alone, we are offering a Mud Season Salad Club. Sign up now and get an assortment of living salad greens each week. The salads come ready to harvest and are planted in easy to carry containers. Take home trays full of luscious, ready to eat greens such as arugula, mache, lettuce, bok choi, pea shoots, sunflower sprouts, and tender herbs. If you would like to be part of this fun salad adventure, send an email to Julie@redwagonplants.com. The best thing about this salad club is that the greens are still alive when you pick them up, and you cut them only when you're ready to eat. No more rotting greens in the fridge! Elevate your salads to the countertop where you can feast on them with all your senses. Here are the details:
Cost: $100 for the month of April and we guarantee enough salad greens for 4 side salads a week for two salad eaters. That comes to about $3.00 a serving for the freshest greens you can find.
Pick up: at our Hinesburg Greenhouses at 2408 Shelburne Falls Road on Friday afternoons between 3 and 6pm. If you cannot make it then, no problem. Just email us and we will set them aside for you. Bring your pots and trays back to us after you have cut the greens. We will compost the soil and use it in our gardens. The first pick up will be Friday, April 4th and the last pick up will be Friday, April 25th.
At home: All you need is room for three trays, about 10" by 20" each. It can be near a window, but that is not absolutely necessary since you will be harvesting them within a week. When you are ready for a salad, just snip the greens at the base with a paring knife or scissors, rinse and dry them, and toss with a very light dressing. We prefer a simple dressing of a good salad oil such as extra-virgin olive oil, hazelnut oil or walnut oil; a squeeze of lemon or splash of sherry vinegar; and a pinch of Maldon sea salt. These greens are so fresh, that you want to be able to really taste them. Keep the bottled dressing for those fridge greens! These are the counter top greens and they deserve top-shelf treatment.
To find out more, email julie@redwagonplants.com
If you are ready to sign up, send a check for $100 to:
Red Wagon Plants
2408 Shelburne Falls Rd
Hinesburg, VT 05461
Thanks so much. Bring in the bounty!
-Julie and the crew